POSHE Drinks are alcohol-free bases for independently preparing cocktails with or without alcohol. Perfect for when you're in the mood for a cocktail straight from the bar, but unfortunately, you don't have all the ingredients in your kitchen.
The original recipes of our products have been developed by professional bartenders for years. In search of the perfect proportions, they conducted several hundred trials before the first mixture was bottled. Since then, all our products are made in the Szczecin Manufactory, and you can create perfect cocktails wherever and whenever you want.
If you wish to meet the founders of POSHE Drinks, come for a drink in Szczecin! It will be prepared for you by our bartenders who work in one of the TOP 5 cocktail bars in Poland – 17 Schodów.
All POSHE Drinks mixes are vegan, and we only use fresh fruits, herbs, juices, and infusions of the highest quality for their production. The product is naturally preserved and then pasteurized, ensuring it retains its freshness for a long time.
The shelf life of each POSHE Drinks mix is up to 120 days from the date of production. A specially developed and tested pasteurization process allows you to enjoy the excellent taste of the cocktails without any artificial preservatives. Once opened, the product should be stored in the refrigerator and consumed within 5 days.
The Perfect Cocktail Recipe
Perfect proportions, perfect taste, always consistent.
Pour 40 ml of
alcohol into a glass
Add 100 ml of POSHE Drinks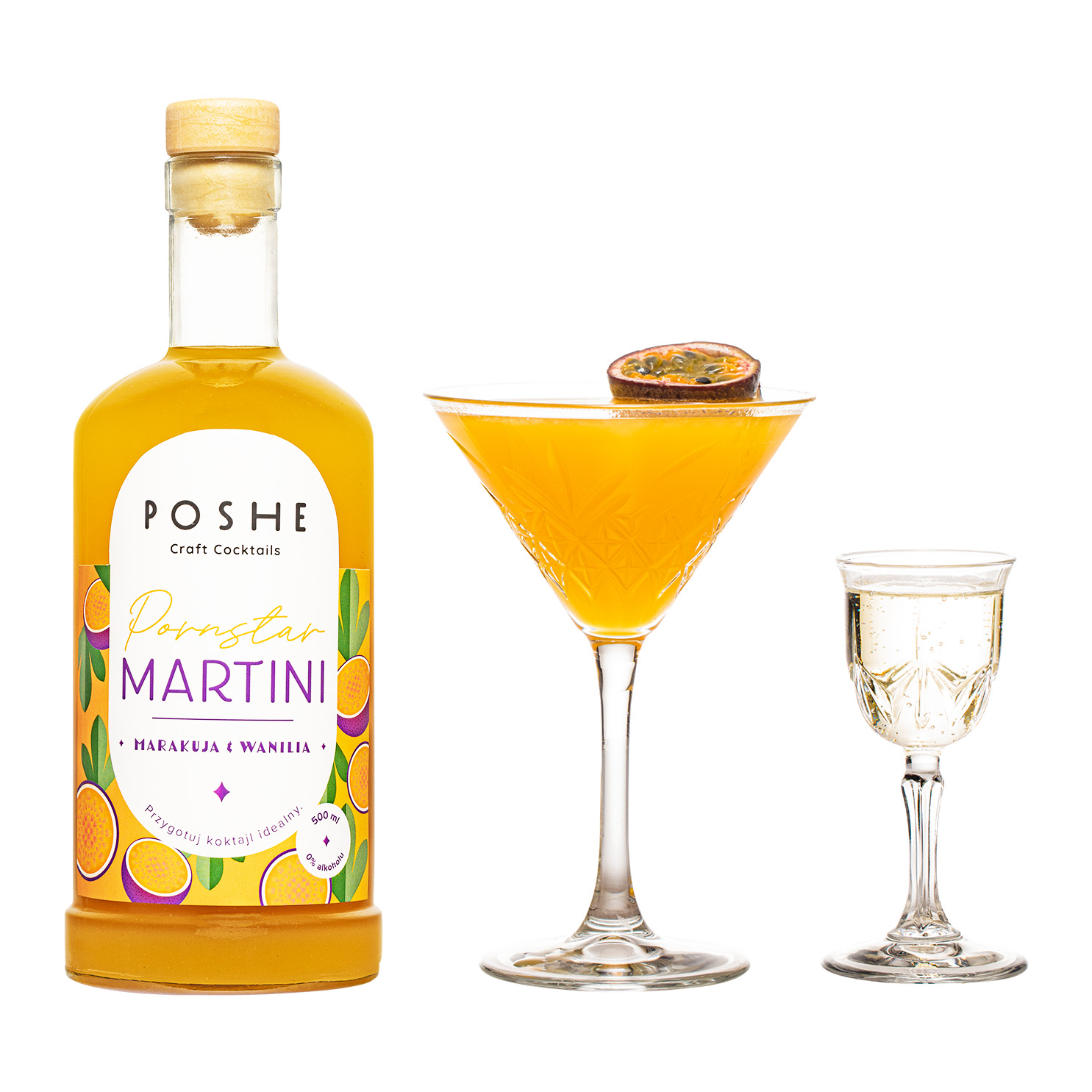 The Pornstar Martini POSHE Drinks is an alcohol-free mix for preparing vodka-based cocktails.
Created by Douglas Ankrah in 2002 in London for his bar, Townhouse. It captivates with its enticing taste of passion fruit, its unique presentation, and a slightly provocative name. In no time, it conquered cocktail bars all over the world.
Ingredients: Passion fruit purée, vanilla, spring water, citric acid, sugar.
Taste: Intense, fruity, sweet and sour, with a pronounced passion fruit flavor and a subtle hint of vanilla.
Recipe for the perfect cocktail:
Pour 40 ml of alcohol into a glass.
Add 100 ml of POSHE Drinks.
Serving suggestion: Best served combined with vodka, well-chilled, without ice, in a cocktail glass. Additionally, you can serve a small portion of sparkling wine on the side – the sparkling wine can be drunk alternately with the cocktail or poured directly into it.
Citrus Spritz POSHE Drinks is a non-alcoholic mix for preparing cocktails based on gin.
A signature recipe created by one of the bartenders from 17 Steps Cocktail Bar. A decidedly more citrusy version of tonic, an answer to the globally renowned spritzers – long, refreshing, and effervescent cocktails.
Recipe for the perfect cocktail:
Pour 40 ml of alcohol into the glass.
Add 100 ml of POSHE Drinks.
Add a few ice cubes.
Ingredients: lime peel, grapefruit peel, yellow gentian root, juniper berries, cardamom, coriander seeds, cinchona bark, spring water, citric acid, sugar.
Taste: Slightly bitter, intensely citrusy, with a lightly spiced note of juniper, coriander, and cardamom. Perfectly thirst-quenching.